I've hiked this mountain many times in the past. It's a moderate eight mile (round-trip) hike to the summit which has an old fire watch tower that you can climb for tremendous 360 degree views. In the photo below, we're about halfway up; that's the summit of Smarts Mountain in the background, behind Bubba. If you click the picture for the larger view, you can just barely see the fire tower.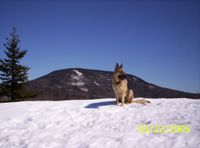 Bubba Strikes a Contemplative Pose Along the Trail to Our Objective, Smarts Mountain (in the background)
This was the first hike of Spring! Gorgeous day, temps in the low 40's, full sunshine, clear blue skies, and visibility at the summit went on forever. The picture below was taken from atop the fire watch tower. I'm looking northeast toward the White Mountains. If you click the picture for the larger view, then you'll see (from left to right) Mt. Moosilauke with a little snow cap on the summit, then next over are Mts. Lafayette and Lincoln, and the white, heaving mound of Mt. Washington is on the right-hand side.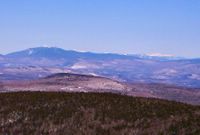 Rare View of the White Mountains from the Smarts Mountain Fire Tower
No matter how many pictures I take, they just fail to capture the expansive grandeur of the mountain vistas. So, I used my digital camera to make a moving panorama of the entire 360 degree view from inside the fire tower on top of Smarts Mountain. You'll need Quicktime to watch it. You can download the free version here (there's a Pro version offered on that page for $30 but you don't need that, just get the free version– it's just as good for this purpose).