A most splendiferous day for a spring hike in the Sandwich Range of New Hampster's White Mountains yesterday. The sky was speckled with those cotton ball clouds and casting moving shadows on the rolling landscape creating an aquatic wonderland. While I love a clear blue sky for its crystalline purity, the watery, undersea effect is unique to partly cloudy skies. Here's a landscape shot from atop Sandwich dome that illustrates what I mean, click it for a larger view: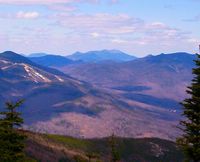 From left to right: Mt. Tecumseh, the Franconia Ridge, and Mt. Osceola.
Hiking in the White Mountains this time of year is tricky. While the lowlands are in full spring mode, the alpine zones are only just now realizing that it's not winter any more. Looking at the mountains from the base, one could get the mistaken notion that the summits are clear of snow. Oh, but how wrong you'd be!
Snow patches started appearing at about 3,000 feet with solid coverage above 3,500 feet. The last 500 feet (about 0.6 miles) to the summit of Sandwich Dome, I was hiking on a condensed snow base that was at least three feet deep. I didn't bring crampons or snowshoes, didn't need 'em either. The snow was consolidated enough that I could just kick in and keep going. Postholing wasn't a problem. The ice patches were covered with enough blown down spruce needles and branches that traction was like, *not* a problem, y'know? Fer sher, fer sher.
Had a great view of snow-capped Mt. Washington, click it for a bigger view: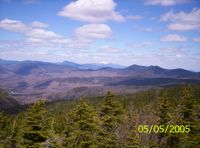 The vista toward Mt. Washington as seen from atop Sandwich Dome.
And then I took the same picture above but cropped in on Mt. Washington, click it for a bigger view: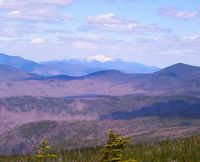 Same as above except zoomed in on Mt. Washington.
The reason you see all the snow on Mt. Washington and not on the surrounding mountains is because Mt. Washington (along with most of the rest of the Presidential Range) is above treeline. The fact is that all the 4,000-footer summits in the White Mountains are still buried in snow. The spruce trees around the summit on the lower peaks cast shadows that prolong the snow cover into the spring and early summer, long after the above-treeline peaks are cleared back to naked granite and schist.
You see those photos above? THAT is why I hike. When I hit a summit on a day like yesterday, I plant my skinny butt on a rock, whip out my binoculars, and feast my myopic peepers on those fabulous vistas. Running my eyes over those peaks and valleys makes my bowels rumble. But that's a story for another time. Giddyup.