Route: Up via Lowe's Path and Randolph Path to Edmands Col. Headed north on Gulfside Trail to Thunderstone Junction then took Lowe's Path all the way back down. Total of about 11 to 12 miles.
Weather: Reports called for mostly cloudy skies with partial clearing by the afternoon. I know from experience that these type of days can yield some of the most dramatic views, which this hike provided in abundance, as you can see below.
Trail Conditions: Wet, wet, wet! Although the lower elevations were clear of snow, there's still plenty at the upper elevations that's still melting, making for lots of water running down the trails. Chronically wet rocks, slick with new bio-growth, made for tricky footing. Above about 3,000 feet, the trail had long stretches of slick ice. Randolph Path was mostly covered with slick ice. Long stretches of Gulfside Trail still had over 4 feet of snow which made for treacherous travel because you would posthole up to your crotch. I was especially concerned for Bubba because of the sharp, jagged rocks below that could wrench his paws. But no injuries other than bruises to both man and canine.
The four photos below were selected from the full set of 13 pictures, which can be seen here. You can click the thumbnails below for a larger view.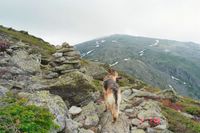 Bubba leads the way up Randolph Path to Edmands Col. That's Mt. Jefferson in the background.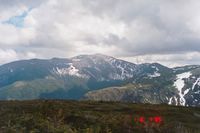 A moody view of Mt. Washington and its massive headwall from the Gulfside Trail. The thin, black wisp of smoke to the right of the summit is the infernal Cog rail ride that flatlanders pay $50 to ride up to the top of Mt. Washington and then triumphantly pose for photos by the summit sign as though they've accomplished something noteworthy.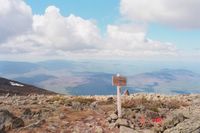 Heading back down on Lowe's Path. Git you an eye-full of Big Sky!