Had another break in the heat and humidity so I headed off to the Northern Presidential range ("The Prezzies," in native-speak) of the White Mountains for some mountain-made eye candy. After hiking all summer in 80 and 90 degree heat saturated with humidity, I had almost forgotten how it feels to hike in crisp, cool mountain air. I had gotten so used to getting beaten down by the oppressive heat, feeling it suck out my energy and strength like a vampire, that I was practically running up the Airline Trail to the near-summit of Mt. Adams.
I turned south off the trail about 0.4 miles below the summit of Mt. Adams and bushwhacked around the summit to the Star Lake Trail. I did this because my canine hiking partner, Bubba, seemed to be having a hard time with all the rough granite rip-rap which comprised the trail. Besides, the view from the Star Lake Trail, looking down at Star Lake and Mt. Madison, is one of the prime ocular treats on this hike. Check it out: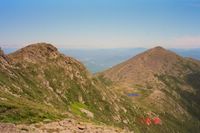 (click for larger view)
Down at Star Lake, Bubba cooled his haunches and rested in one of the rare patches of grass found above treeline.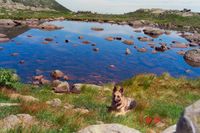 (click for larger view)
Come on, check out the rest of the pictures from this splendiferous hike.