In his never-ending quest to enrich and vivify your online DIY appliance repair experience, the Samurai has re-designed the world-famous Three-Step Samurai Appliance Repair Program and the Appliance Repair FAQ pages. You can see preview images below; click the pix to be there now. Now you can find all the appliance repair troubleshooting and repair information you need and even get expert help from real-life Master Appliantologists all within the refined and luxurious user experience you've come to expect from the Samurai.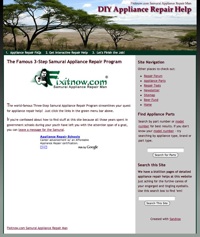 The World-Famous Three-Step Samurai Appliance Repair Program
These pages step you through the most effective way of getting it fixed: everything from frequently asked questions, to getting personal expert repair help, to finding the part you need to finish the job. Come with me now on a safari through the Serengeti of appliance repair help to the Promised Land of Appliance Nirvana.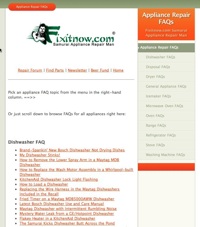 Appliance Repair FAQs
Frequently asked questions for all types, makes, and brands of appliances: dishwashers, disposals, dryers, icemakers, microwave ovens, ovens, ranges, refrigerators, stoves, washers, and general appliance repair questions. I've written thousands of posts on all this stuff so there's a good chance you'll find what you need here.