Leaking Pump in a Whirlpool DU810DWGQ1 Dishwasher
These are cheesy, inexpensive dishwashers that are prone to leaky pumps, as shown here (click the pic for the larger, annotated view).

Whirlpool DU810DWGQ1 Dishwasher Pump and Motor Diagram
The problem is usually a leaky shaft seal kit, shown here as Items 7 and 8 (click the pic for the larger, annotated view).
Fortunately, the shaft seal kit is inexpensive; but it can be a booger to install, depending on how much rust you're dealing with. May require a destructive removal of the impeller, too, but ain't no thang 'cuz the shaft seal kit comes with a new impeller. Here's a nice, purdy picture of a brand new shaft seal kit. And just to help motivate you a little more, the money you save from replacing just the shaft seal vs. replacing the entire motor-pump assembly is well over a Benjamin. So you go ahead and drill, cut, and chisel all you want on that old impeller!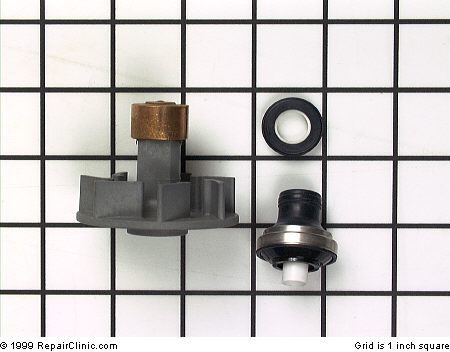 And Whirlpool just came out with a spiffy new DIY repair manual for this dishwasher, which will assist you mightily in the many repair adventures you are certain to have with this dishwasher:
To learn more about your dishwasher, or to order parts, click here.