This range uses the finicky and temperamental Direct Spark Ignition (DSI) system. This is a different animal from the two most common gas oven ignition systems: standing pilot and hot surface ignition.
In the DSI system, when you turn on the oven, it makes a spark at the burner to ignite the gas and fire it up… except when it won't. Hence this post.
Common complaints:
– oven shuts off during the Bake cycle and the food ain't cooked
– oven won't light or, if it does, it shuts right off
– burner ignition is sporadic or intermittent– sometimes it works, sometimes, tough cookie (or raw cookie)
– oven may "lockout" after it reaches the set Bake temperature
– oven cools down after pre-heat
Most of the time, these problems are caused by the bake burner itself. Whirlpool added more holes to the gas burner tube to help it fire up more reliably. Check it out:
The cure is to buy and install the upgraded bake burner tube.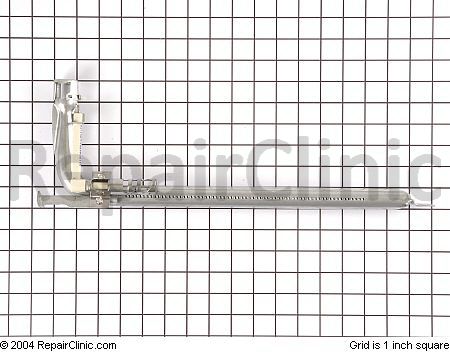 To learn more about your range/stove/oven, or to order parts,
click here
.