Ariadirect wrote:
Hey there, my GE WSSH300G front loader washing machine will not start. Four of the five lights on the right (Wash, Rinse, Final Spin, and Control Lock) come on, and when I push Start, the Door Lock light remains off, and the Control Lock light blinks. I don't think the door latch mechanism is the problem. Following other links, I've taken the mechanism out, taken it apart, inspected it, and even jumped the wires that would close the switch loop, and still nothing.

Any help you can give would be appreciated, as I'm about to pull my hair out.
The control panel can inadvertently get locked from wiping the panel down or from little kids playing "beep-beep" with the buttons. To unlock it, press the OPTIONS and SELECT keys at the same time until the Control (Control Lock) indicator turns off.
Careful with that hair-pulling or you could end up like this cat: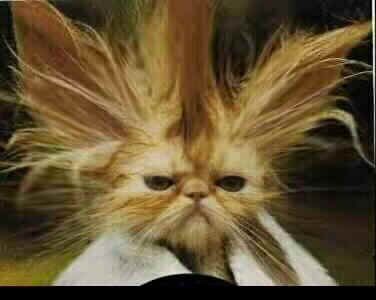 To learn more about your washing machine, or to order parts,
click here
.