Your Name: Margaret

Type of Appliance: Oven/Range/Stove

Brand: GE Gas Downdraft Cooktop

Model Number: JGP389BEV4BB

Your Precious Words:
I can not turn of the knobs to ignite my gas cooktop burner. So the back right burner is now useless. How can we fix it?
This is a problem with the gas valve for the affected burner. The knob is attached directly to the bad valve. If you can use a screwdriver and a wrench and can fog a mirror, you can do this repair!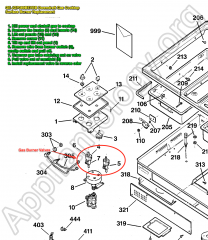 This diagram shows you how to do the repair, click it for larger view in a new window.
Here's the replacement valve you need, comes with a one year warranty: http://www.repairclinic.com/PartDetail/Surface-Burner-Valve/WB21X5323/252638?RCAID=24038
Be sure to leak check the gas tube connection on the new valve after you get it installed. This video explains the basic idea.


To learn more about your range/stove/oven, or to order parts, click here.