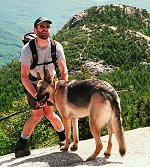 It was a fine August day for a hike on the famously picturesque Welch and Dickey loop in New Hampshire's White Mountains. I was hiking up Mt. Dickey, soaking up the sun, enjoying the superlative views and minding my own bidness, when this German Shepherd appeared out of nowhere and took a big bite out of a my little Mt. Dickey. I discovered another use for duct tape that day.
Find Appliance Parts & Diagrams Here
Enter a model number, part number, type of appliance, brand, or even a part description.
365-day return policy on all parts ordered through this site!