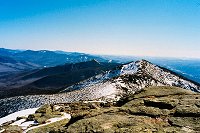 Made a couple of great hikes up to the Franconia Ridge last week. The first one was up the Falling Waters trail on an overcast day to the summit of Little Haystack Mountain where I had an impressive view of Mt. Lafayette at the other end of the ridge. The Falling Waters trail is a tough trail in summer with no snow–even more so during winter. I honestly didn't know if I would make it to the summit. Even Ouzo was one hurtin' unit at the summit of Little Haystack.
Then, a couple days later, I hiked up the Old Bridal Path trail to the summit of Mt. Lafayette. This was a sparkling, cloudless day that afforded excellent views of the Franconia Ridge, the Bond Range in the Pemigewasset Wilderness area and the Presidential Range.
You can check out the complete set of photos from these two trips here.