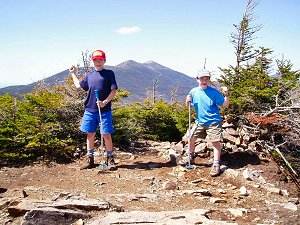 Took my little samurai guys hiking up Mt. Flume this past Wednesday. Mt. Flume is one of New Hampshire's 4,000-footers. I was prepared for them to turn back along the way but, by Gumby, they made it all the way up to the summit. Their first 4,000-footer–woohoo!!!
We got underway at the Lincoln Woods Trailhead at 11:30am and got back to the van at 6:00pm for a total hiking time of 6½ hours. That's a long time for any 9 or 7 year-old to stay focused, but my little dudes did it beautifully and had a great time the entire 11-mile hike!
At the summit of Mt. Flume, I called in an audblog post on my cell phone that included cogent comments from Stephen and Sam but the call was lost before it could get posted. Well, forget audblog, check out all the pictures from this hike.