Went on a service call for a Fisher Paykel dishdrawer yesterday. Complaint was that the lower drawer would not start up. Diagnosis confirmed the complaint, the drawer would act as though it wasn't closed all the way, would just give not-ready beeps when you closed it and pressed start.
I put the drawer into diagnostic mode by pressing and holding the Key Lock and Start buttons simultaneously. In diagnostic mode, I could review the current and previous error codes. Current code showed U2, drawer not closed error. The prime suspect in this case is always the drawer limit switch. On the DD602's, the limit switch is located on the very back of the left drawer guide which means, you guessed it, the drawer needs to come out.
If you've not removed a drawer from a DD602, you're in for a joy ride. This article has details on how to do it. Fisher Paykel has made several improvements in the DD603 models which have been gratefully received by Fisher Paykel servicers. The drawer linkage is chief among them. It's actually not that bad, you just have to be patient and methodical.
Anyway, with the drawer out, the problem was plainly visible, as seen in the thumbnail photo below. Click it for a larger view.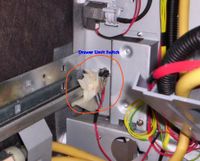 Fisher Paykel DD602, broken drawer limit switch. You can see that the actuating lever on the switch has been broken and bent upwards, so it can no longer depress the switch button. Consequently, the dishdrawer's CPU never knows the drawer is closed.