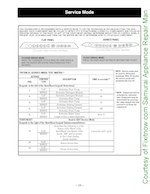 Service diagnostic mode is one of those indispensable troubleshooting tools built into some appliances with electronic controls. Although electronics on wet appliances, such as dishwashers, is a flagrant violation of the 5th Law of the Prophecy, this is somewhat mitigated by having a service diagnostic mode to help troubleshoot it.
In service mode, you can do things like make the dishwasher fill with water and nothing else. Or make it pump out and nothing else. Real handy if you're trying to track down the cause for a no fill or no pump out complaint.
Applies to the following GE dishwasher models:
EDW4000
EDW4060
GSD6200
GSD6300
GSD6600
GSD6660
GSD6700
PDW7300
PDW7700
PDW7800
PDW7880
To learn more about your dishwasher, or to order parts, click here.