Looking for an easy way to destroy the pump in your Whirlpool Duet Sport washing machine? Piece of pie, tovarish! Just don't empty your pockets before you put your pants in the laundry hamper.
You'll soon overload the pump's gookus catcher and some of it is bound to get through and destroy the pump.
Persistence pays…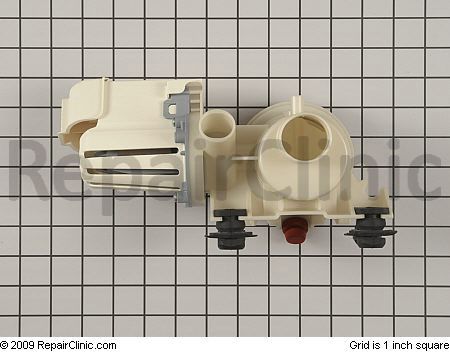 … about $130 in this case. Yep, that's what a new pump for this beast will run ya, Slick. And it even includes instamalation destructions, too, at no extra charge! Y'see, Hoss, here at Fixit-the-freak-now-dot-frikkin-com, we're always scoping the deals for you 'cuz it's all about you.
Replacing the pump is easy enough… once you clear all the water. Since the pump ain't working on account of all that metal detector fodder in your pockets, the tub will be full of water. Bail as much as you can. Then remove the kickplate– three screws on the very bottom, cheek to the floor, you'll see 'em. See that big accordion-looking rubber thingy behind the pump? That's the suction boot. You'll need to remove that from the pump. It's jobs like this where you discover why God gave man Shop Vacs. There'll be residual water in the drum that'll run out all over the place unless you suck it up with the Shop Vac as you ease the suction boot off the pump ever so gently. It's a technique kind of a deal. After you do a few hundred of these, you'll get to where you won't even spill a drop… of blood or water.
To learn more about your washing machine, or to order parts, click here.