JIM wrote:
we are trying to repair a model gw395leps03 gas range.the control panel went dead so we bought a new one,installed it and it now shows pf code which means power fail.we turned breaker off and waited ands turned it back on still the same pf. we called whirlpool tech line and told them of the problem the said they have never heard of that happening and will get back to us in 3/5 days. can u figure it out? thank you
Looking at the tech sheet for your range, I see that you are another victim of the infamous direct spark ignition system. Personally, I'm not a big fan of these because they have a history of being finicky. I much prefer the good ol' hot surface ignition system because of their simplicity and robustness. But, we can't always pick our battles. So let's unsheathe our katanas and kick some insolent appliance butt…
I'm surprised the Whirlpool tech line didn't tell you that this is known problem with these DSI ranges. Whirlpool even put out a tech bulletin on this very problem waaay back in aught-two. Turns out one of the unique problems with this ignition system is that the spark module is susceptible to noise on the electrical line.
Transients, spikes, and harmonics are the more common types of garbage on household electrical circuits today. These power quality problems are increasingly common today due to the prevalence of computers and other devices that crank out electrical noise. But that's a topic for another post, which you can read more about ratcheer.
Fortunately, there's a reasonably simple solution to this problem… at least in so far as it affects your range. Whirlpool recommends that you install this noise filter kit.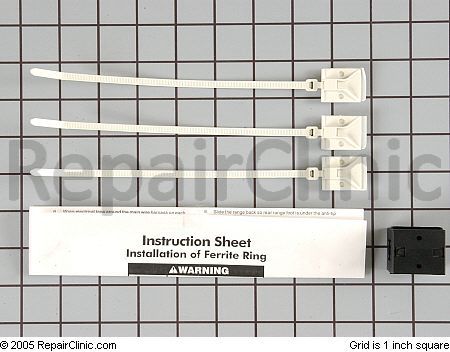 To learn more about your range/stove/oven, or to order parts, click here.